South East Asia Bucket List | Top 10 Best Beaches
Posted On October 21, 2021
South East Asia's world-famous beaches provide a plethora of options to relax and enjoy the region's boundless coasts. While there, you can rest and enjoy the tranquil vistas, as well as participate in a variety of water activities. The beaches are tranquil, with crystal clear waters that mirror the destination's natural beauty. Become a beach bum and spend your days lounging on the sand, soaking in the sun, and cooling down in the crystal-clear waters. If you're considering a beach trip in the region, visit one of the following locations for an unforgettable experience and the best of South-East Asia's budget beaches while you're there. You may rest assured that you will have a great time visiting the white sand beaches.
Why would you want to travel somewhere else when there are so many great sites to discover? Take a look over this extensive list, which spans the entire region. You can also learn about the best places to dine and stay while on vacation.
See our list of the top beaches in Asia to help you plan a brief escape or a once-in-a-lifetime trip—or just daydream about apparently endless expanses of sand for a while.
Tioman Island | Malaysia – Embellished With Rocks
Get immersed in Tioman Island's lush jungles, clear streams, and sparkling white-sand beaches. See the multi-hued coral and tropical fish, as well as butterflies, monitor lizards, and deer on the island, in this lovely setting for a relaxing holiday. Visit one of the many communities along the coast, which makes for a fantastic day trip. Spend at least 5 nights on the Tioman Islands with your friends or family to soak in everything that Tioman Island has to offer. This is considered one of the nicest beaches, not only in Malaysia but also in all of  South-East Asia.
Rai Leh | Thailand
On the Andaman Islands, Rai Leh is Thailand's beach paradise. Visit the stunning Phra Nang beach, which is probably Thailand's, if not Southeast Asia's, most beautiful beach, and should definitely find a place on your Thailand Travel Itinerary. Relax on the wide swath of white sand that runs the length of the beach, looking out at the huge cliffs that frame each end. A 3 night stay is recommended to thoroughly enjoy Phra Nang at your own pace.
Sihanoukville | Cambodia
Sihanoukville is Cambodia's most popular beach location, is surrounded by white-sand beaches and unspoiled tropical islands. The beach is also regarded as one of Southeast Asia's most popular vacation spots, and should definitely be there on your 7 Day Cambodia Travel Itinerary. This is the place to go if you're searching for a less busy environment. Visit the Otres Market, a late-night market with live music and food vendors, as well as the popular rocky strip of Ochheuteal Beach, while you're in town.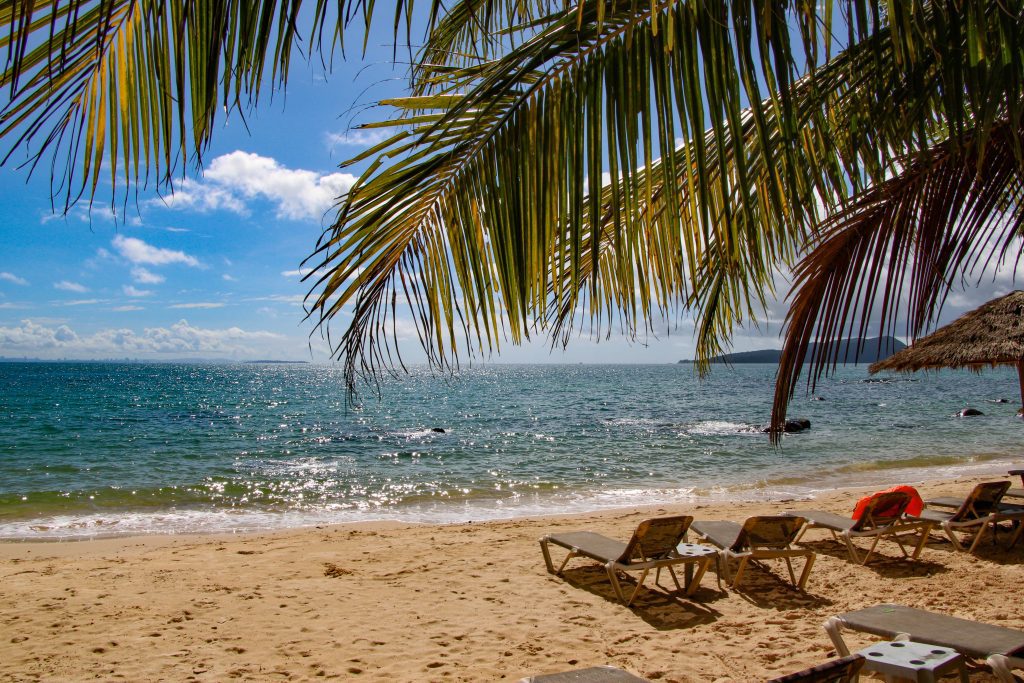 Boracay | Philippines
Boracay Island's laid-back vibes, along with White Beach's two miles of gleaming sand, make it one of Southeast Asia's most attractive budget beach destinations. At Bulabog Beach, enjoy water sports such as windsurfing and kiteboarding, as well as horseback riding, and take in the view from Mt Luho View Deck.
Koh Phi Phi Islands | Thailand
Some of the most popular budget friendly beaches in South East Asia may be found on this Thai island. The Koh Phi Phi Islands offer a stunning combination of stone and sand beaches and the warm Andaman Sea, with diverse marine life like leopard sharks and vivid coral reefs. For a fantastic vacation, travel to the six islands that make up this island group. Take a longtail boat to Maya Bay from Ko Phi Phi Don, where you can see the Monkey Beach.
Sunrise Beach |Thailand
Sunrise Beach, also known as Hat Chao Ley in the local language, is a beautiful beach with a 2 KM expanse of dry sand. The calm, glistening water is home to a variety of unique marine species, making it ideal for snorkeling and swimming. But that isn't all! The beach is known for its spectacular sunrises and sunsets. Start your day with uplifting sunshine and conclude it with the decreasing hues of red and yellow by waking up early! The beach is less commercialised than other Thai beaches, making it one of the best beaches in South East Asia for a relaxing vacation.
City Beach | Vietnam
Nha Trang in Vietnam has some of the nicest beaches in South East Asia, and the City Beach in this area is nothing short of a relaxing haven. With a length of 6 KM, this beach offers the best scuba diving in the country. There are also a number of shops lined up along the beach where you can buy souvenirs.
Pok Tunggal Beach | Indonesia
Do you want to unwind on a beach that isn't overrun with locals or tourists? Travel to Indonesia's Pok Tunggal Beach, which is regarded as one of Asia's top beaches. This beach is a natural wonder, with the sea's greenish-blue colour and warm golden sand.
Tanjong Beach | Singapore
Do you have plans to visit Sentosa? Don't miss out on visiting one of Asia's top beach resorts. Tanjong Beach offers an opportunity to relax in the lap of nature, with the blue sea on one side and the bustling city on the other. So, after seeing the Merlion Statue and Underwater World, go to this beach with your friends or family. It is definitely a Bucket List Experience in Singapore.
Pink Beach | Indonesia
Imagine yourself standing on a pink-colored sand beach. This isn't a fairy tale. On Indonesia's Komodo Island, you may now visit a pink beach. This beach has been designated as a UNESCO World Heritage Site due to its crystal blue water, distinctive sand, and lush surroundings. Water sports such as snorkeling and diving can be done here. Pink Beach is one of Asia's most beautiful beach destination.
There are many beaches in Southeast Asia, and there is a lot to see and do with hundreds of miles of stunning and endless blue waters. With new beaches being found every year, there is always a diverse selection of beach spots to choose from around the world. It's impossible to describe what it's like to sit on the beach late at night; it's different for everyone. Some people enjoy stargazing, while others get lost in the limitless horizon.