Top 10 Places to Visit in Portugal
Posted On October 26, 2021
Despite its enduring popularity, Portugal remains one of Europe's best-value vacation destinations. On the world-famous "Euro Trip," Portugal is one of the most wanted and popular stops, as it is one of the Best Destination for Solo Travellers. It is situated on the Iberian Peninsula's western coast, and there are numerous locations to visit in Portugal that you must see during your vacation.
The geography varies from mountains and vineyards in the north to farmlands and mediaeval villages in the center, and wonderful beaches along the southern coast, providing you with everything you might want on your dream vacation!
Portugal, one of Europe's oldest countries, has a deep history to go along with spectacular landscapes, beautiful beaches, fascinating museums, and delectable cuisine. Natural springs, a village constructed of boulders, and a chapel made of human skeletons, to name a few, are among the attractions. Here are some of the top places to visit if you ever find yourself in Portugal.
See our list of the finest places to visit in Portugal for ideas on where to go.
The Wineries
The Douro Valley, famous for producing Port and other wines, is unquestionably one of Portugal's most beautiful tourist destinations. Visitors come from all over the world to sip wine and appreciate the vineyard-covered hillsides at this UNESCO World Heritage Site. Taking a road trip will allow you to tour the vineyards and even spend the night at one of the wineries (quintas). However, be aware that the roads in this area are winding and often stomach-churning steep.
Sintra National Palace
If you're looking for things to do in Portugal, this should be at the top of your list! The exterior of Sintra National Palace is distinguished by a pair of strange-looking conical chimneys. It is the oldest remaining palace in Portugal, having been erected for the former King Joo I, in the 14th century.
Porto Bridge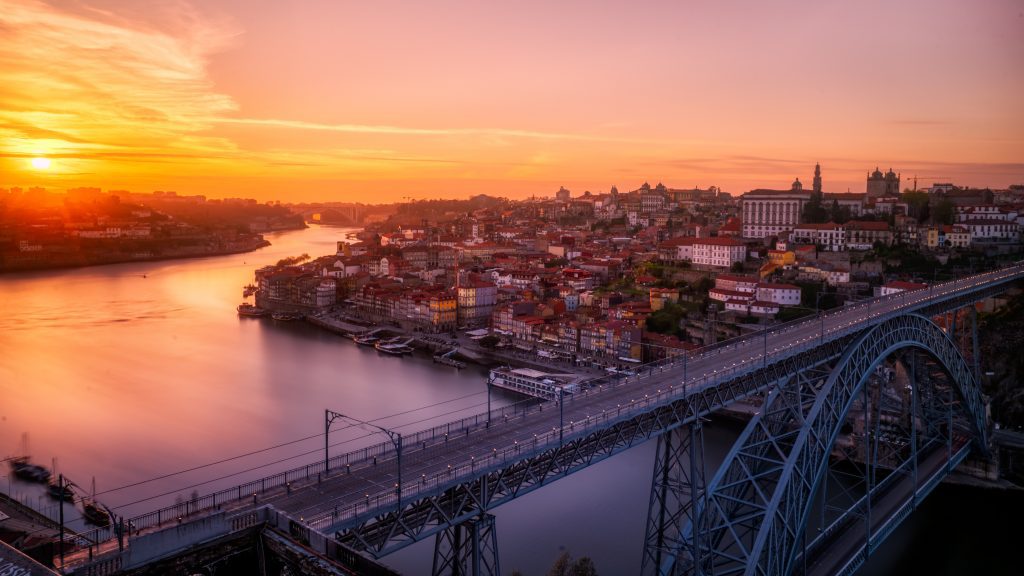 The Porto Bridge is one of Portugal's most out-of-the-ordinary tourist attractions. The Porto Bridge Climb offers guided tours of this landmark structure, with guests wearing a harness and securing a lifeline so that they can securely and comfortably scale the great heights. The upper deck now carries Line D of the Porto metro as well as a pedestrian walkway, while the lower deck is for road traffic and walkers who do not have a fear of vertigo.
From the top deck and near Jardim do Morro metro station, there are spectacular views of Porto's 18th-century skyline, including Porto Cathedral and the Torre dos Clerigos.
Lisbon
The capital of Portugal, set on the banks of River Tagus, is definitely something you should Visit in Portugal and experience for yourself. It is the largest city in Portugal and is home to some world famous UNESCO Word Heritage sites such as Mosteiro dos Jerónimos, Torre de Belém, Castelo de São Jorge and Alfama which is the oldest part of Lisbon.
Lisbon boasts of an excellent public transport system, however the best way to truly experience what Lisbon has to offer, is to hop on to the vintage trams.
Lisbon being one of the most affordable and culturally rich capitals in Europe is also one of the Best Destination for Solo Travellers in the World.
If you are travelling with your family, don't forget to visit the Lisbon Oceanarium with is one of Europe's largest and most beautiful aquariums.
The Nine Islands of the Azores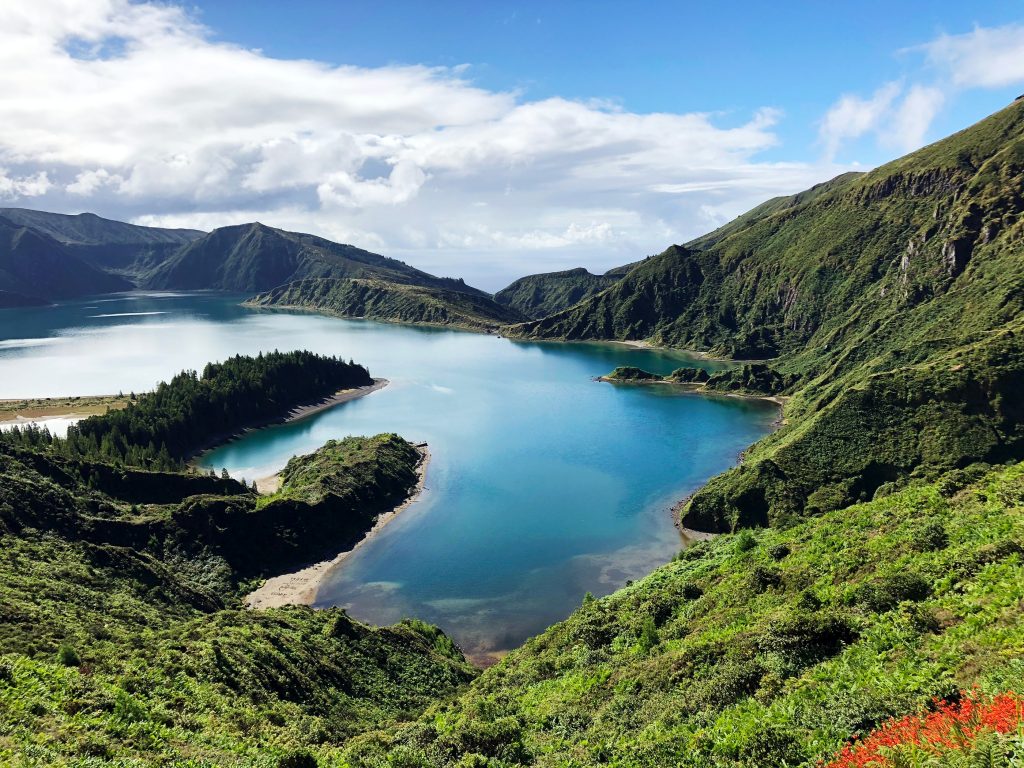 The Azores are a group of nine islands located 1,500 kilometers west of Lisbon in the Atlantic Ocean, with volcanic landscapes, lush pastures, and one of the world's best marine environments. About a third of the world's cetacean species make their home in the archipelago.
Doing a road trip in the Azores should definitely be there on your Portugal Travel Bucket List as it has been rated as one of the Most Scenic Road Trips in Europe.
As a result, for nature enthusiasts, it is one of the most essential sites to visit in Portugal. These companies are likewise dedicated to responsible whale watching and, depending on which tour you choose, may include the opportunity to swim in the islands' natural geothermal springs.
The Chapel of Bones in Evora
The scorching Alentejo's main city rises up a hill to a spectacular ruined Roman temple, which is whitewashed and terracotta clad. Ancient aqueducts span crumbling Moorish walls, narrow alleys ring with the peal of bells from an array of ancient churches, and the city serves as the ideal gateway to the stone circles, vineyards, and castle villages that dot Portugal's forgotten interior.
Évora – a UNESCO World Heritage Site, is one of Portugal's best-preserved mediaeval cities, situated at the foot of a mountain range in the Alentejo wine region, and home to the 16th-century Capella dos Ossos (Chapel of Bones). Thousands of bodies were unearthed from the city's graveyards in the 16th century, and their ultimate resting place is the gruesome monument. It is estimated that 5,000 skeletons are encased within its walls. While it is not for the faint hearted, it is undoubtedly one of Portugal's most unique destinations.
The Medieval village of Sortelha
Sortelha, a little village in Portugal, captures the actual essence of mediaeval periods, and all one has to do is explore the streets to learn more. The castle that shadows most of this village's territory provides a terrific vibe for all history fans and trekking among the relics of this old place will undoubtedly require some tough sports shoes.
Parque Nacional da Peneda-Gerês
If you love the outdoors, then visiting the only National Park of Portugal should definitely be there on your list of Places to Visit in Portugal. It occupies more than 700 sq.km in the Minho region, which is in Northeast Portugal, and near the border with Spain.
With plenty of beautiful hiking trails and panoramic views on offer, it is an outdoor enthusiasts paradise.
The best time to visit is in the Spring, when the countryside is in full bloom.
The Beaches in Algrave
The Algarve region, in the south of Portugal, is home to more than 100 magnificent beaches over a 155-kilometer stretch of golden coastline. This is, unsurprisingly, one of the best spots to visit in Portugal if you like to surf. Praia do Amado, on the Costa Vicentina, is the country's most well-known surf destination, and it organises international bodyboarding and surfing contests on a regular basis. During low tide, the stunning sand dunes, cliffs, and rock pools make this a favourite destination for families.
Elvas
The defensive fortifications that surround Elvas are among Europe's best-preserved examples of military architecture, with hefty, star-shaped walls. UNESCO has designated Elvas as a World Heritage Site for its mid-17th-century defences, which are located on a hilltop in the Alentejo, 15 kilometres from the Spanish border.
A castle on the north wall provides excellent views over the area, including two smaller outlying forts and the town's remarkable 16th-century aqueduct, the Aqueduto da Amoreira.
A magnificent array of monuments and historic buildings, many of which have been designated as UNESCO World Heritage Sites, define Portugal's history. The country's personality is shaped by its people, who are open, kind, and welcoming. Spend some time travelling about the country, and you'll be enchanted by the country's colour, flavour, and warmth.
There are many intriguing places to visit in Portugal, and this lovely mediaeval city never fails to provide visitors with unrivalled excitement and frivolity. Do you want to see everything? Now is the time to plan for your trip to Portugal and create unforgettable experiences with your loved ones.